Jurassic World: Dominion Dominates Fandom Wikis - The Loop
Play Sound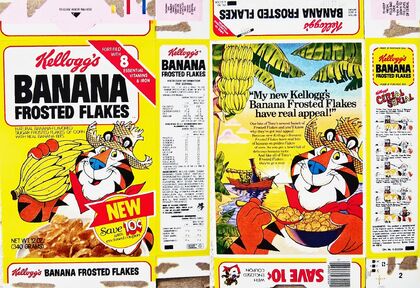 Description
"Natural Banana-Flavored Sugar Frosted Flakes of Corn with Real Banana Bits"
Notes
This variant of Kellogg's popular Frosted Flakes cereal contained real banana pieces. The bits of banana in this cereal were adhered to the the flakes, as nut pieces are in certain other cereals.
When this cereal was on the market, it's sister cereal, Frosted Flakes, was still going by the name "Sugar Frosted Flakes".
Company
Kellogg's
Spokesperson
Tony the Tiger
Introduced
1981
Discontinued
1984
Marketing
According to an ad when the cereal was introduced, "Kellogg's Banana Frost Flakes delivers real bits of banana and great banana taste in every bite."
On the back of one box, Tony The Tiger is quoted as saying, "My new Kellogg's Banana Frosted Flakes have real appeal!"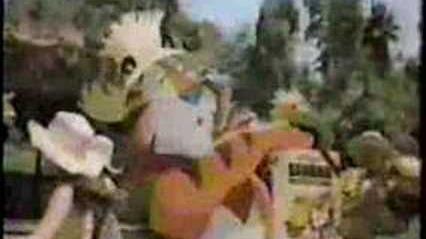 Other Varieties
Cocoa Frosted Flakes, Frosted Rice, Tony's Cinnamon Krunchers, Whole Grain Tiger Power