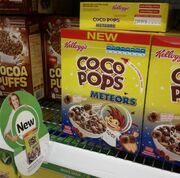 Description
[
]
Crispy choclate flavoured exterior made of mixed cereal flours with a soft centre made from a smooth hazelnut-choclate spread.
Notes
[
]
Coco Pops Meteors were exclusive to Austrailian and New Zealand markets.
A similar version that has not yet been discontinued called Coco Pops Rocks is available in Britain. 
Company
[
]
Kellogg's
Advertising Character/Mascot
[
]
The mascot featured on the box is a monkey named Coco and has been used as the mascot for all coco pops cereals to date.
Introduced
[
]
2014
Discontinued
[
]
2016