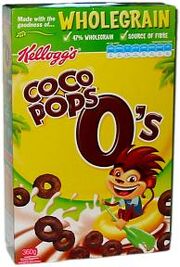 Description
[
]
A ring shaped choclate flavoured cereal with a crispy texture.
Notes
[
]
This variety of Coco Pops were exclusive to the Austrailian and New Zealand markets.
Shortly before the cereal was discontinued the name of this variety of the Coco Pop's cereal was changed from O's to Choco's.
Company
[
]
Kellogg's
Advertising Character/Mascot
[
]
The mascot featured on the box is a monkey named Coco and has been used as the mascot for all coco pops cereals to date.
Introduced
[
]
2010
Discontinued
[
]
2018
Marketing
[
]
This particular variety of Coco Pops was featured along with two other varities of Coco Pops in a TV advertisment.that aired during early 2018.