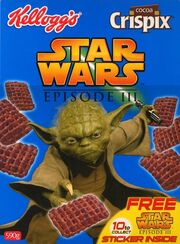 Description
[
]
The cereal is lattice textured and chocolate flavoured.
Notes
[
]
The cereal was a regional exclusive to Australia and New Zealand.
Shortly after the cereal was discontinued an alternative based off cocoa crispix called coco pops chex was released in both the Australian and New Zealand markets.
Company
[
]
Kellogg's
Advertising Character/Mascot
[
]
The cereal does not usually feature a mascot however in 2005 Yoda was featured on the box to promote Revenge of the Sith.
Introduced
[
]
2009
Discontinued
[
]
2019
Marketing
[
]
During the 90's there were a number of tv advertisments in Austrailia promoting both the now discontinued cocoa crispix and it's still currently manufactured honey variant.