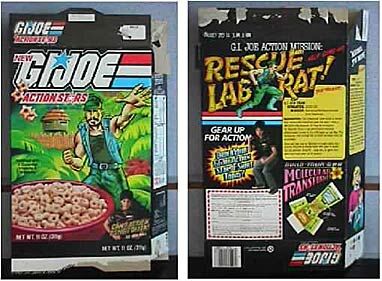 Description
[
]
"Sweetened Cereal"
Notes
[
]
G.I. Joe Action Stars was based on the popular line of military-themed action figures which date back to 1964. The cereal was introduced the same year as the animated television series "G.I. Joe: A Real American Hero".
There were multiple variations of cereal box - each featuring a different character from the G.I. Joe collection drawn in an action pose. Among the characters pictured were Duke, Gung-Ho and Shipwreck.
The cereal was a collection of oat /grain pieces shaped like hollowed-out stars.
Company
[
]
Ralston
Introduced
[
]
1985
Discontinued
[
]
1990
Marketing
[
]
A television commercial for the cereal (seen here) depicted a boy making his way to a bowl of cereal led by the character Duke. After eating the cereal, the boy flies into the air following another G.I. Joe character named Starduster. Of interesting note to G.I. Joe fans and collectors, this was the only time that the action-figure Starduster appeared in animated form. He was never part of the cartoon television series.