Jurassic World: Dominion Dominates Fandom Wikis - The Loop
Play Sound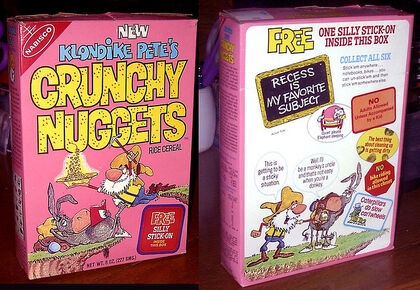 Description
[
]
"Rice Cereal" or "Wheat Cereal"
Notes
[
]
The wheat version of this cereal came in a light blue box, rather than pink.
This cereal had existed under one name or another for 36 years before it was finally gone.
The cereals began as Ranger Joe Rice Honnies and Ranger Joe Wheat Honnies in 1939. The National Biscuit Company (later known as Nabisco) bought the Ranger Joe cereals in 1954 and changed their names to Rice Honeys and Wheat Honeys.
In the late 1960's, sales of the Honeys cereals began to sag. In 1971, in an attempt to revive the cereals, the names were changed again, this time to Winnie-The-Pooh Great Honey Crunchers, which came in both rice and wheat varieties. Despite a barrage of marketing centered around the Winnie-The-Pooh character, the cereals' sales continued to disappoint.
Nabisco gave the cereals one last shot. About a year after the Winnie-The-Pooh cereals were introduced, the cereal changed names for the last time, this time to Klondike Pete's Crunchy Nuggets, rice and wheat.
The cereal's mascot, Klondike Pete, was a bearded prospector who searched for gold with a mule named Thorndike.
Company
[
]
Nabisco
Mascot
[
]
Klondike Pete
Introduced
[
]
1972
Discontinued
[
]
1975