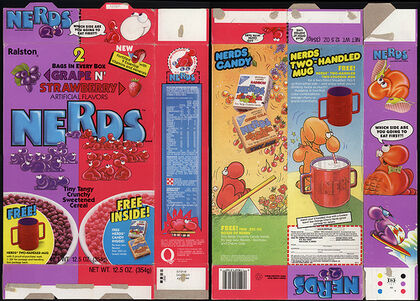 Description
[
]
"Tiny Tangy Crunchy Sweetened Cereal"
Notes
[
]
Like the candy, Nerds Cereal featured two separate flavors to a box. Flavors came in orange/cherry and strawberry/grape varieties.
The cereal also came with a mail-in offer for a Nerds cereal bowl which could be divided in two like a standard Nerds box.
Company
[
]
Ralston
Introduced
[
]
1985
Discontinued
[
]
1986
Marketing
[
]