Jurassic World: Dominion Dominates Fandom Wikis - The Loop
Play Sound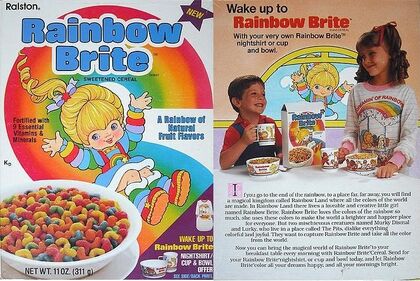 Description
[
]
"Sweetened Cereal"
Notes
[
]
The introduction of this cereal corresponded with the release of the 1985 movie Rainbow Brite and the Star Stealer. The Rainbow Brite animated TV series debuted a year earlier in 1984. This product was described on the box as a "sweetened cereal" with "natural fruit flavors" that was "fortified with 9 essential vitamins & minerals".
Company
[
]
Ralston
Advertising Character
[
]
Rainbow Brite
Introduced
[
]
1985
Discontinued
[
]
1990
Marketing
[
]
A commercial described it like this: "New Rainbow Brite brand cereal. Sweet, fruity rainbows of bright color... fruit flavored colorful bites... Rainbow Brite."
The back of an early box introduced the cereal with a brief story about the world of Rainbow Brite: "If you go to the end of the rainbow, to a place far, far away, you will find a magical kingdom called Rainbow Land where all the colors of the world are made. In Rainbow Land, there lives a lovable and creative little girl named Rainbow Brite. Rainbow Brite loves the colors of the rainbow so much, she uses these colors to make the world a brighter and happier place for everyone. But two mischievous creatures named Murky Dismal and Lurky, who live in a place called The Pits, dislike everything colorful and joyful. They want to capture Rainbow Brite and take all the color from the world.
"Now you can bring the magical world of Rainbow Brite to your breakfast table every morning with Rainbow Brite Cereal... let Rainbow Brite color all your dreams happy, and your mornings bright."