Jurassic World: Dominion Dominates Fandom Wikis - The Loop
Play Sound
Producer: Post 
Year: 1983
This cereal was described on the box as a "Fruity Sweetened Corn, Oat & Wheat Cereal; Fortified with 10 Essential Vitamins and Minerals."

The box featured Papa Smurf holding a spoonful of the red and purple cereal, while Smurfette and two other Smurfs pick Smurf Berries from a Smurf Berry bush in the background.
In 1987, Post produced a second Smurfs cereal called Smurf Magic Berries; unlike Smurf Berry Crunch, the Magic Berries cereal contained marshmallows.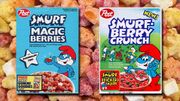 ​​​​​
The two cereals side-by-side.

Known Prizes:
Smurf Stickers; True Blue Smurf Award Badges; Smurf Campaign Buttons; Smurf Bicycle Plates.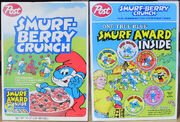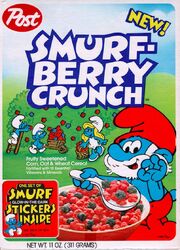 ​​​​​
Smurf Berry Crunch with "Smurf Award".
Smurf Berry Crunch with "Smurf Stickers".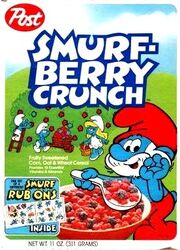 ​

Smurf Berry Crunch with "Smurf Rub-Ons"
Smurf Berry Crunch Jingle:
(From TV ad; sung to the tune of Tchaikovsky's The Nutcracker Suite)
"Smurf Berry Crunch is fun to eat
A Smurfy fruity breakfast treat
Made by Smurfs so happily
It tastes like crunchy Smurf Berries
It's berry shaped and crispy too
In berry red and Smurfy blue."

Smurf Berry Crunch Trivia:
Actor Jack Black (Tropic Thunder, School Of Rock) once appeared in a Smurf Berry Crunch television commercial.