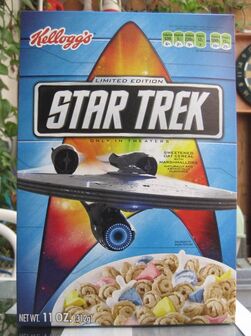 Description
[
]
The cereal is made of sweet galaxy shaped cereal puffs and marshmallows shaped like Star Trek planets and Star Trek shields.
Notes
[
]
The cereal was a cross promotion with the then new Star Trek movie.
Company
[
]
Kellogg's
Advertising Character/Mascot
[
]
Whilst the cereal box might not feature a mascot it does feature an image of starship enterprise.
Introduced
[
]
2009
Discontinued
[
]
2009