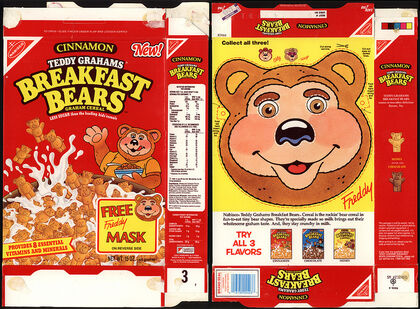 Description
[
]
"Graham Cereal"
Notes
[
]
This cereal came in honey, cinnamon and chocolate varieties.
When the cereal first appeared on shelves, each flavor had a different cut-out Breakfast Bear mask on the back.
Teddy Grahams Breakfast Bears was an extension of Nabisco's popular line of Teddy Grahams snack crackers which were introduced two years earlier in 1988.
Company
[
]
Nabisco
Introduced
[
]
1990
Discontinued
[
]
2008
Marketing
[
]
According to a television ad, they were "burstin' with wholesome graham goodness."