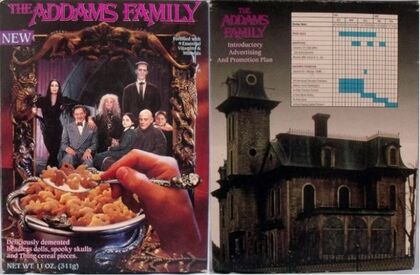 Description
"Sweetened Cereal"
Notes
The box described this cereal as "a mysterious flavor that you're going to love" and also calls it "the creepy, crunchy cereal with the great taste you'll scream for." More specific flavor descriptions were not provided.
The cereal shapes were molded into the forms of "headless dolls, spooky skulls and Thing."
Some boxes came with one of four flashlight toys shaped like the movie characters Lurch, Uncle Fester, Cousin It, or Thing, the disembodied hand.
Company
Ralston
Introduced
1991
Discontinued
1999
Marketing