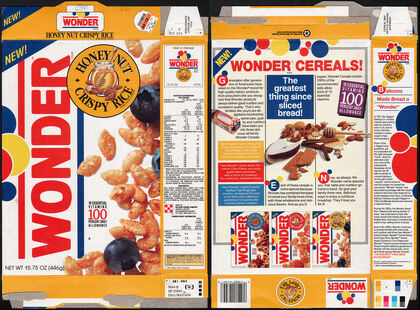 Description
[
]
"Honey Nut Crispy Rice Sweetened Cereal"
Notes
[
]
Wonder brand cereals came in three varieties: Apple Cinnamon Corn Flakes, Crunchy Graham Oat Rings and Honey Nut Crispy Rice.
The cereals were produced by Ralston-Purina through a licensing agreement with it's then-subsidiary Continental Baking, producers of Wonder Bread.
The introduction of Wonder cereals was heralded by Ralston as "the greatest thing since sliced bread."
Company
[
]
Ralston
Introduced
[
]
1991
Discontinued
[
]
1996
Marketing
[
]
Jingle: "These are the wonder years... these are the wonderful wonder years... finding the moments... holding them dear... these are the wonder years..."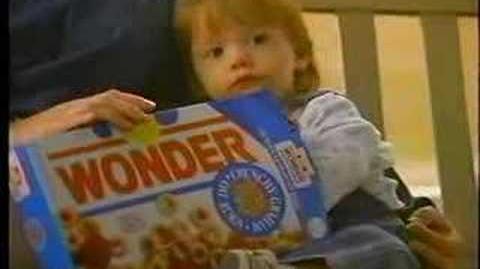 Other Varieties
[
]
Wonder Apple Cinnamon Corn Flakes and Wonder Crunchy Graham Oat Rings